Aluminum profile for kitchen cabinet,aluminium profile sliding wardrobe door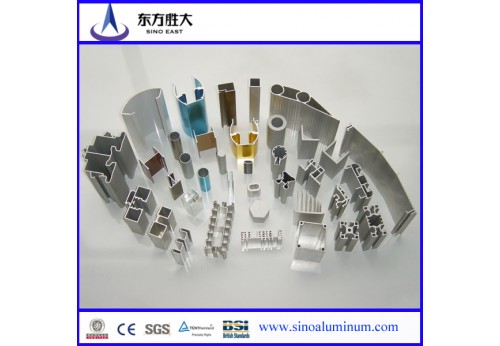 Aluminum Profile Supply
1. Materials
Aluminium Alloy: 6063, 6061, 6005, 6060 Thermal Treatment: T5, T6
Alloy

Si

Fe

Cu

Mn

Mg

Cr

Zn

Ti

Impurity

Al

Unit

Total

6063

0.2-0.6

<0.35

<0.1

<0.1

0.45-0.9

<0.1

<0.1

<0.1

<0.05

<0.15

Surplus

6061

0.4-0.8

0.7

0.15-0.4

<0.15

0.8-1.2

0.04-0.35

<0.25

<0.15

<0.05

<0.15

Surplus

6005

0.6-0.9

<0.35

<0.1

<0.1

0.4-0.9

0.1

<0.1

<0.1

<0.05

<0.15

Surplus

6060

0.3-0.6

0.35-0.6

0.1-0.3

<0.1

<0.1

<0.15

<0.05

<0.1

<0.05

<0.15

Surplus
2. Section Shapes
I, U, T, C, Z, L, H, square, round, flat, hollow, t-slot, and other complicated shapes by custom design.
3. Surface treating
Mill / Anodizing (oxidation) / Sand blasting / Powder Coating / Electrophoresis / PVDFCoating / Wood effect.
4. Application
1) - for Window and door frames, for Wardrobe cabinet sliding doors, kitchen, for Building curtain glass walls
2) -for Fencing, Rail, Deck and Frame.
3) - for Solar panel frames, solar mounting / roofing brackets
4) - for Industry assembly lines equipment.
5) - for Heatsinks, for LED lighting.
7) - other by custom design size and dimension